Acerbis
Integrated eCommerce Solution
eCommerce
design
development
support
A data driven eCommerce experience. The right products for the right model.
Background
Acerbis specializes in designing, manufacturing and the marketing of technical accessories in the powersport market. Throughout all that they do Acerbis remains passionately focused on surpassing the design and manufacturing needs of their products, while also exceeding service and time expectations for their dealers and customers.  This has resulted in substantial growth for Acerbis, attracting loyal customers throughout the world. 

In order to meet the growing demand of their customers Acerbis needed a more robust eCommerce platform aligned with their current stature. Their main goal was to consolidate 3rd party platforms into a single solution, streamlining the experience for their users. In order to achieve this seamless eCommerce experience, considerable efforts were made to ensure that the product data was organized while also providing an improved user experience. The partnership with Acerbis was amazing and the results were a great success!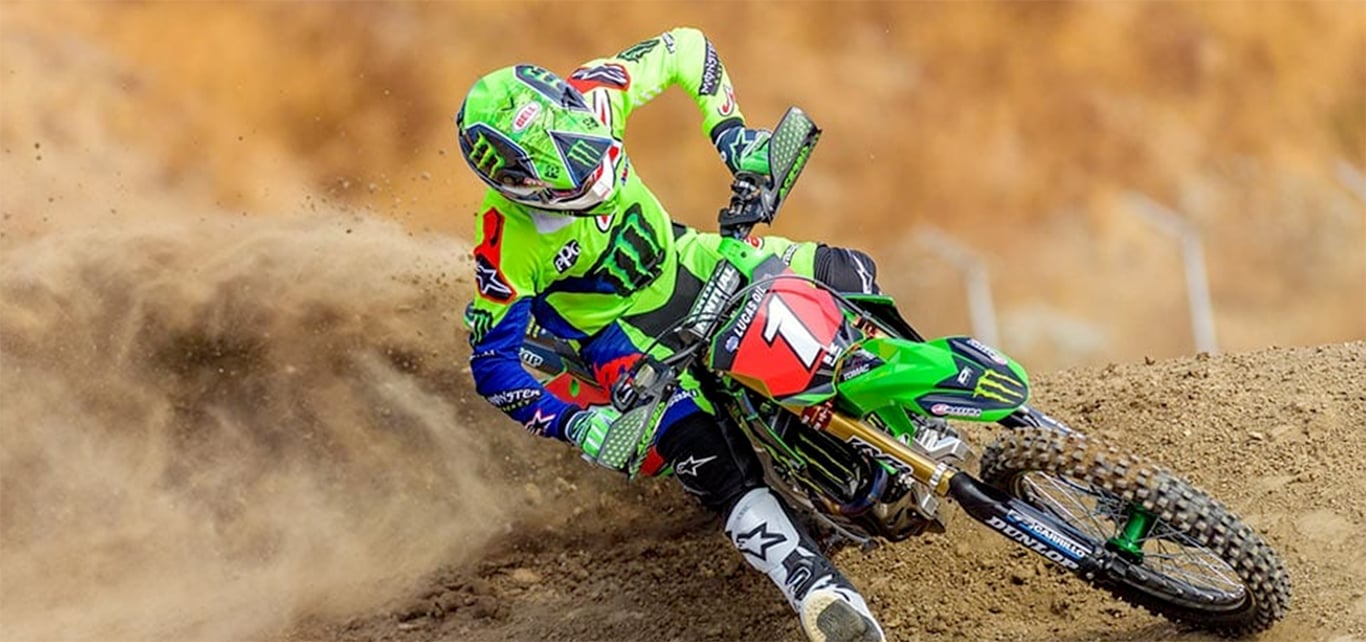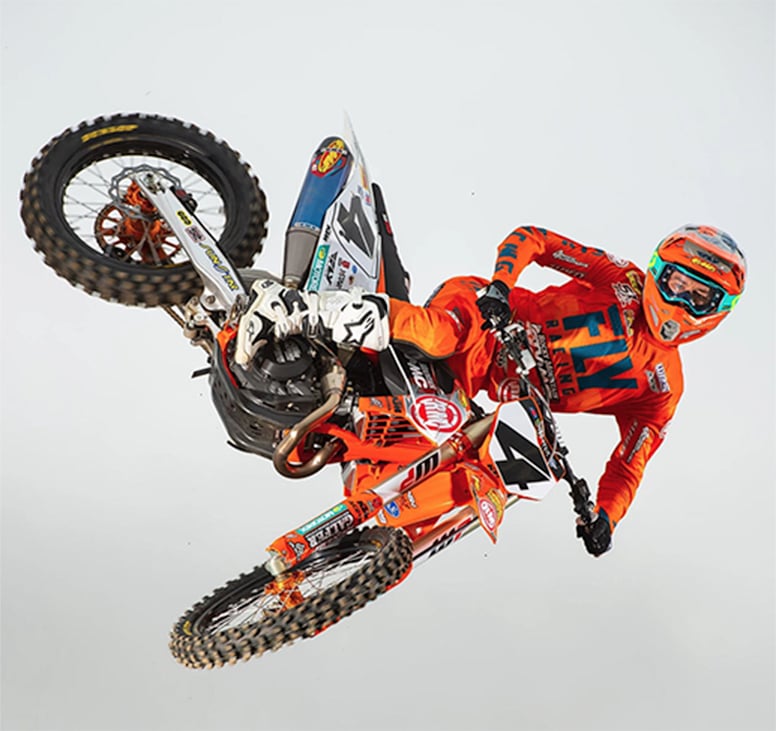 The Story
Acerbis is renowned for their attention to detail, building beautiful, highly functional products that simply work. Fortunately, we share the same values and our teams collaborated as one to create the digital strategy and creative design direction for the new platform. 

Investing the time to learn the intricacies of the Acerbis story from the onset was well worth it.  Our design direction reflected both their rooted philosophy and their future needs. Our primary focus was striking photography that didn't overpower, coupled with a minimalistic design that commanded the attention their products deserved.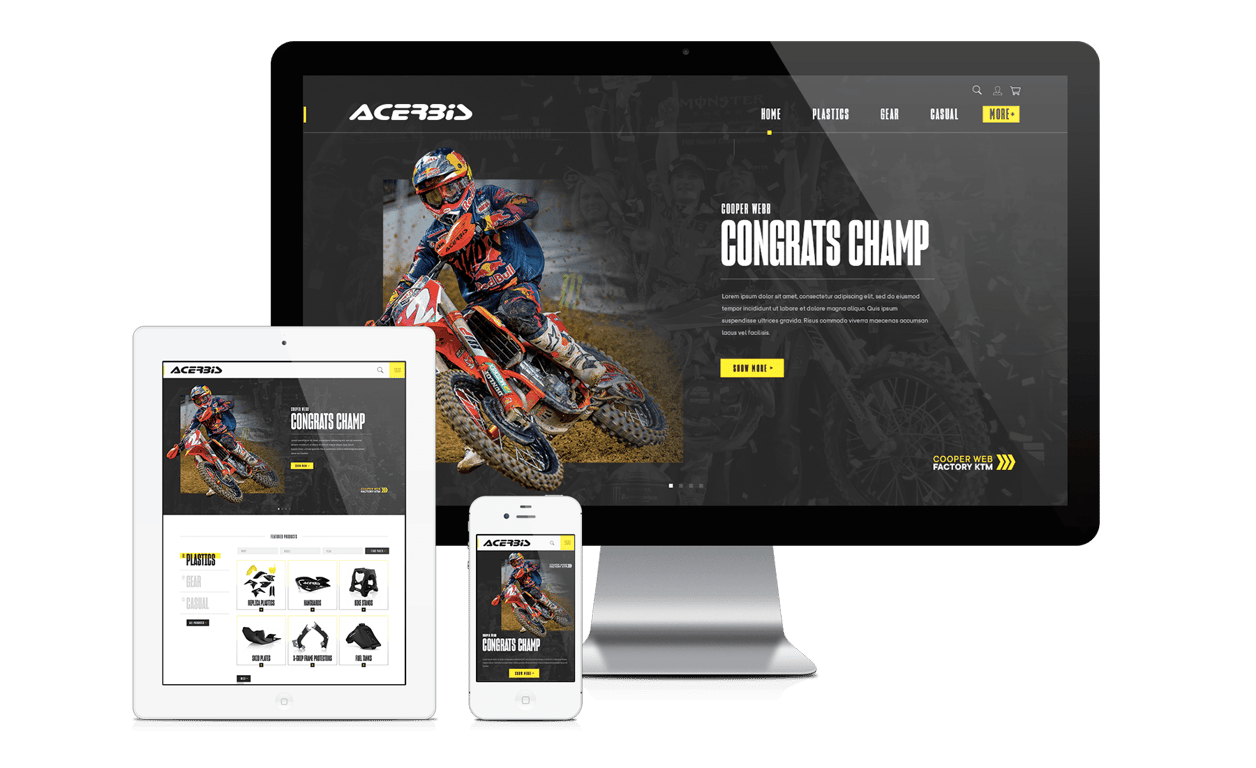 The right bike the right experience
When you are selling products, accurate data drives all customer experiences. With a complicated and ever expanding product line keeping your products well organized and current can be a constant struggle. It's not just organizing and identifying the correct, make, model and year associations but also colors, sizes and a variety of other attributes that can easily be lost in an overwhelming amount of data. As such, considerable time needs to be allocated to making sure the data is organized, accurate and effectively presented to the user. We dedicated our time to helping the Acerbis team clean their data and crafted a beautiful display for their customers.  
Ensuring their customers are able to find the right part, the right color, the right size… every time
Mobile Focused
Let's be honest… millennials love their phones, and they expect the mobile experience to be as good as or better than the desktop version. More than ever, people are using their phones to shop, as such, we need a mobile experience that entices. We don't simply offer a watered down version of our desktop design... our mobile experiences are created deliberately to maximize each experience, and every responsive element.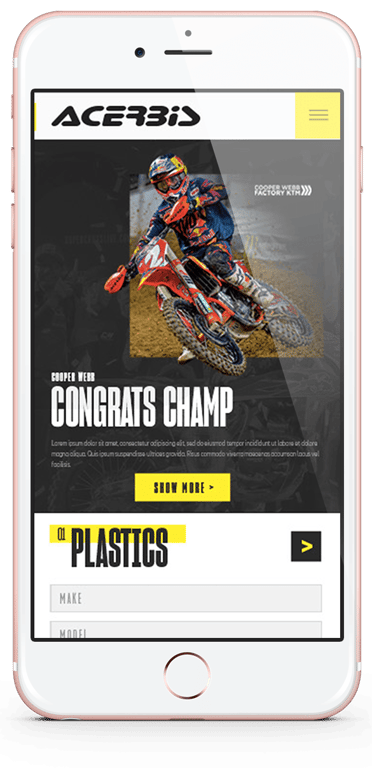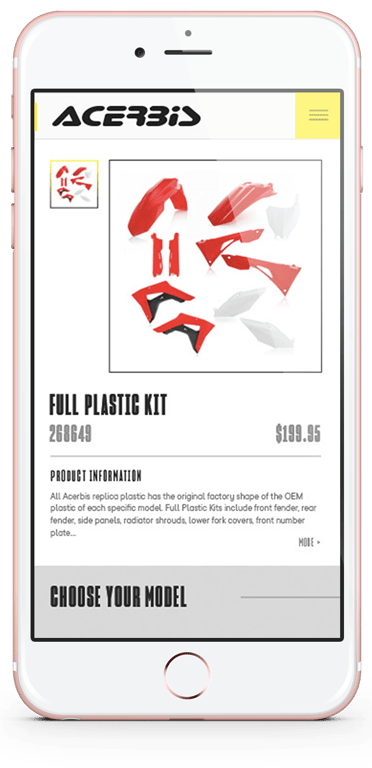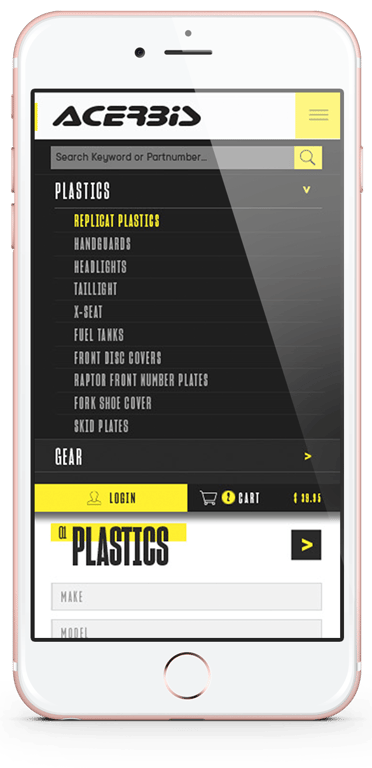 PURL Commerce for Powersports
Thoughtfully designed, specifically for the powersports aftermarket and created to bridge the gap between generic ecommerce solutions and fully custom enterprise options. PURL is the only platform that will allow you to present your products to customers (B2B or B2C) the right way, while being able to streamline your business process, sync with your ERP or accounting solution, and consolidate third party systems into one. PURL is designed to make an impact.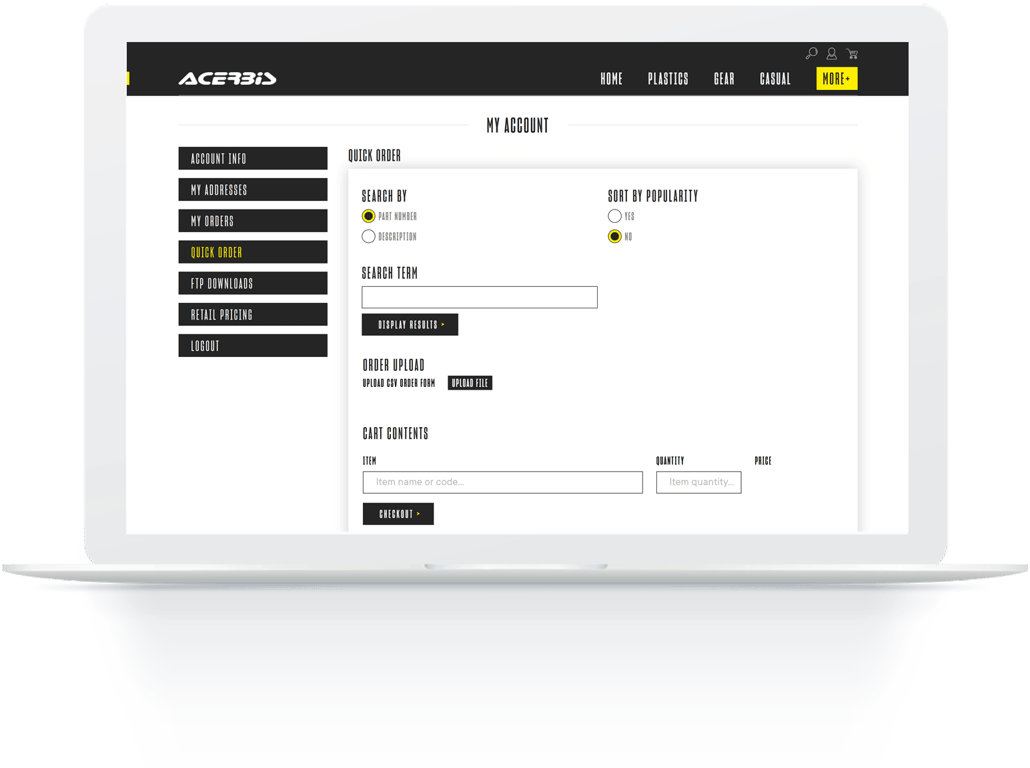 B2B and B2C Support
Today, more than ever, it's vital that you are able to service your customers directly without alienating your retailers and distributors. We get it! We have built tools that add value to your B2B customers, like real time inventory lookup, ftp resources, and bulk ordering. Making doing business with you easier than ever.
We also know that being able to sell directly is more critical than ever before. No one knows your products better than you do! Take advantage of smart merchandising, by getting the right products in front of the right buyers at the right time.
Integrated Rider Support
Our integrated rider support platform allows Acerbis athletes to sign up for sponsorship via their website, via a simple form. After review, and with a few clicks of a button their customer is assigned a rider support price level and can easily shop the Acerbis website at their approved discounted price level.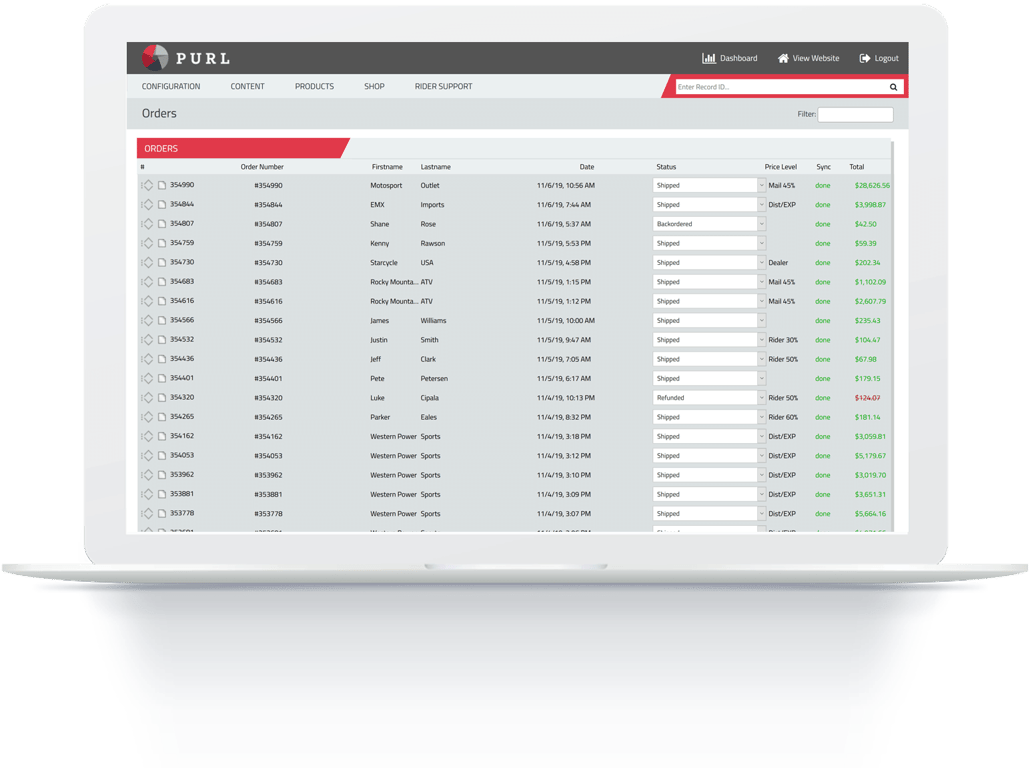 ERP System Sync
Automation is critical to running an efficient online business. As such, Acerbis's website syncs orders, customers, and inventory to their SAP ERP system. This greatly improves efficiency, reduces human errors, and ensures that they are operating at the speed of digital.
scroll for next case study
AK Constuction
Elevated branding builds elevated results
design
development
support
branding
marketing
Building anything requires a focused effort on what you are trying to achieve.